My Biography
Mark began his music career in 1973 with his first guitar. By 1977 he was songwriting, and since 1978, Mark has been a lead vocalist and playing electric and acoustic guitar and bass in rock and roll and acoustic bands professionally with both original music and cover songs. He also became a professional sound technician in 1978 eventually running live sound for shows including: Flock of Seagulls, The Indigo Girls and Sublime, as well as many local Brevard bands. In 2005, he created his own professional recording studio to create and develop original music.
In 1978, Mark created his first rock and roll band named The A1A Band, which had a Caribbean Country and Southern Rock flavor along with a couple of Mark's original songs. He was lead vocalist playing both acoustic 12 string and electric 6 string guitars, and he was bandleader for the duration to 1986. In 1982, Mark started a second rock and roll band, The Acetones, which showcased a Rock and New Wave style as well as Mark's original music. This became his main band from 1982 to 1986 in which he was lead vocalist playing rhythm guitar for the first 2½ years and then lead vocalist playing bass for the remainder. Both bands had a Brevard County following from 1978-1986 of hundreds of people.
In 1986, Mark moved to Los Angeles to join an all-original rock and roll music band named Love Snake. He played bass and sang background vocals for this band for about one year at venues such as Madame Wong's West, Gazzarri's and Whisky a-Go-Go. In 1987, Mark moved to Atlanta after his son was born, when he joined another primarily original music rock and roll band named The Torpedoes. From 1987 to 1991, he was lead vocalist and played bass in this band in and around Atlanta, developed original music by writing bass and vocal parts, and recorded an album and had a record printed with two singles at Studio 1, the same studio that Atlanta Rhythm Section, Stillwater, 38 Special and Starbuck recorded in.
In 1991, Mark moved back to Indialantic to be near his family and to start his primarily original music rock and roll band named The Haoles to include the world's multi-time champion surfboard shaper, Ricky Carroll. Mark wrote the majority of the original music and lyrics and recorded an album of 14 songs at Full Sail Academy in Orlando, Florida. This academy also worked with The Haoles creating a video of Mark's original song, Working It Out At The Inlet. He was lead vocalist playing bass to 2003 and lead vocalist playing rhythm guitar from 2003 to 2006, and from 1991 to 2006, he was bandleader. The Haoles continued their success in both Brevard and Orange counties to 2006 with hundreds of followers.
In 2005, Mark recorded his originals, Planet's Cry and The Boy Is Here, in his new professional recording studio.
In 2006 to 2014, Mark played solo and/or duo acoustic gigs in Brevard County, which included, from time to time, Paul Chapman, who was lead guitarist for the heavy metal band UFO.
In 2014, Mark created a primarily original music rock and roll band, The QuarterBones, which had a Folk Rock, three-part harmony Crosby Stills & Nash flare. He played 12 string acoustic and 6 string electric guitars, bass and lead and backup vocals, and was bandleader for the duration to 2017. He recorded in his professional recording studio a 13-song CD with partial copyright to all 13 songs and 100% publishing rights. Mark's band played with Bryan Culpepper, keyboardist for Pearl River in September, 2016 and opened for David Allan Coe in October, 2016. His music is being played on WFIT in Brevard county, WLRN in Miami and WMNF in Tampa as well as national radio. This band became a "house" band at Space Coast Harley-Davidson® in Palm Bay, Florida with a Letter of Recognition and Letter of Recommendation and has also participated in a couple of songwriters festivals.
Mark has copyrighted several original songs to date.
Keep in touch
Mark Baker
Musician/Singer/Songwriter
Band Leader/Builder/Sound Technician
C/o 274 East Eau Gallie Boulevard, #242
Indian Harbour Beach, Florida 32937
Tel: (321) 615-7613
soundenlightening@startmail.com
If you have any queries, please send message, and we will be in touch soon
We play the songs others don't
Here is a partial list of the songs we currently play:
If I Had A Boat – Lyle Lovett,  Wonderwall – Oasis, Freshmen – Verve Pipe, One I Love – REM,  When I Fall – Bare Naked Ladies,
Old Soldiers – David Crosby,
Tears of a Clown – Smokey Robinson, Driver 8 – REM, Crash – Dave Matthews,
Stretch Out and Wait – Smiths,
Body is a Wonderland – John Mayer She Talks to Angels – Black Crows, Cuban Crime of Passion,
Great Fillin Station Holdup,
Wild World – Cat Stevens,
Good Riddance- Green Day,
Who can it be now?,
Overkill – Colin Hay,
Ghost in you – Psychedelic Furs, Beautiful World – Colin Hay,
Waiting for my real life-Colin Hay, Whippin Post – Allman Bros,
Friday I'm in Love – Cure,
Satellite – Casey Turner,
Coldest day of the year-Casey Turner, Learning to Fly-Foo Fighters, Willin – Little Feat,
Why Don't We get Drunk – Jimmy Buffet, Cinnamon Girl – Neil Young,
Leeshore – Crosby/Nash,
Magnolia – JJ Cale,
Franklyn's Tower,
Good Love,
Long Haired Country, Boy
Joker – Steve Miller,
Pencil Thin Mustache,
Changes in Latitudes,
Captain and the Kid,
Tryin to Reason …
Son of a Son of a Sailor,
Wonder Why…,
Pirate looks at 40,
Tampico Trauma,
He went to Paris,
Grapefruit,
Don't Dance Like Carmen,
Havana Daydreaming,
I Have Found a Home,
Death of an Unpopular Poet,
4 & 20 – Crosby/Nash,
Ask – Smiths,
Shoplifters of the World – Smiths,
Page 43 –Crosby/Nash,
From the Beginning,
Love Song – Elton John,
Mother Goose – Jethro Tull,
Mona Lisas and Madhatters,
Come Down In Time – Elton
Brick – Ben Folds Five
Louise – Bonnie Raite,
Stu's Song-Me,
Come Anytime – Hoodoo Gurus, Planet's Cry-Me,
Lady behind the counter-Pearl Jam, Land Down Under – Colin Hay, Beautiful World – Colin Hay,
Amie – Pure Prairie League,
Machine Gun Kelly – James Taylor, Dizz knee land-DaDa, Driven to Tears-Police, A Team-Ed Sherran, Never want to go home – Casey Turner, Wayan and Friends – CT, This I already know – CT, Coldest day of the year – CT
"Requested" songs can be learned prior to engagement .  References upon request.
My shows
Style of music:  Heavy vocal harmonies, mostly acoustic flavor songs but with added drums/percussion many danceable tunes.  Duo, trio or 4 pc band, whatever your needs.
We have multiple PA systems to choose from for any size venue requirements.
5th Annual Vuelta A Sebastian Inlet
17/03/2018 @
Sebastian, Fl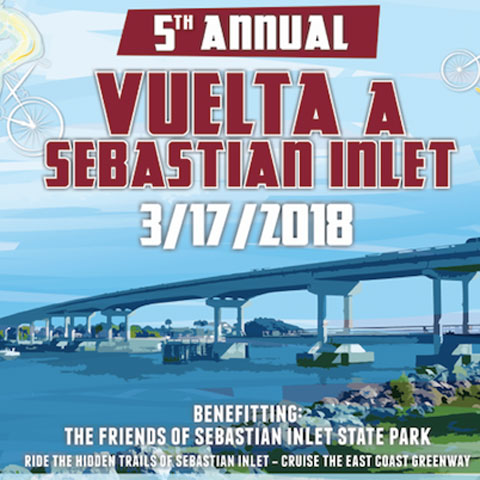 Mark's stage equipment
Mark plays a Taylor 714 cedar top, a couple of Taylor 514″s with cedar tops and a circa 1978 Ibanez 12 string acoustic guitar.  The 514 has been retrofit for a Boss guitar synth by the greatest luthier we know – Mr. Mark Jeffrette who has also repaired my 12 string from a stage fall at a Space Coast Harley-Davidson show.  My electric guitars are a Fender Telecaster and a Fender Flame Elite, aka Robin Ford model.  My amplifiers are a pair of Carvin V3M's-compact and powerful, easy to carry and never let us down.  My pedal board consists of a Boss NS2 noise suppressor, tuner, Crybaby wah pedal, an Ibanez TS-9 Tube Screamer, an RE-20 Roland Space Echo and finally a Digitech CF-7 Chorus Factory, split stereo to my 2 Carvin combo amps.